WHAT kind of results can i expect?
This is one of the most relevant and important questions to ask. By all means, we all want a financial return on our investments as well as an emotionally connection with results. It is important to understand that like any other coaching, it only works if you the client are committed and do the work. It is not the role of a business coach to do the work. 86% of companies that could calculate their return on investment said that they at least made back their initial investment. 19% indicated an ROI of 50x the investment. 28% saw an ROI of 10-49x the investment. The median ROI is 7x the investment. (2009 ICF Global Coaching Study)
WHAT SHOULD I EXPECT FROM A BUSINESS COACH?
When you work with a business coach, you're hiring an experienced partner in sustainable business growth. Your business coach helps you clarify your business vision so that it aligns with your personal and professional goals.

A coach has the business savvy to "see the forest through the trees" and help prioritize your work accordingly. With a business coach at your side, you'll be empowered to use key tools for understanding your business – its mission, operations, financials, culture, and overall viability.

As you work with a business coach, you'll discover a process for addressing challenges, correcting imbalances, and creating solutions that will prepare your business for long-term success.
WHAT MAKES A GREAT BUSINESS COACH?
A great business coach helps:
• Identify what changes need to be made.
• Get to the heart of the problems as soon as possible.
• They have no agenda and are non-biased. Their only agenda is to make their client more effective.
• Relate to the client quickly and develop trust and credibility.
• Learn to understand their clients' needs both emotionally and intellectually.
• Help their client understand where they can stretch their capabilities.
• Have extensive business knowledge and experience.

HOW LONG IS A BUSINESS COACHING SESSION?
The initial meet-and-greet session will be approximately 30-minutes. Thereafter, if agreed to work together it will be followed up by a 2-hour Scoping session where the problem(s), and challenging areas in the business will be identified with possible well-formed outcomes. All other coaching sessions thereafter will be approximately an hour per session.
WHAT HAPPENS IF A COACHING SESSION ARE MISSED?
Life happens, I understand and respect that. I require a 48-hour notice if you are not able to attend our session so we can then reschedule. Less than 24 hours you will be charge for the full session cost that you had missed. I am sure you can understand that this is a professional business practice. therefor my time is valuable, and just like you, I also have accounts that needs to be paid. With an advance cancellation I can try to fill your lost time slot with another client.
WHAT ARE KAREL'S CREDENTIALS?
As an ongoing entrepreneur and business owner Karel started his own businesses in the Health and Beauty, Manufacturing and Product Chain Industries.

He has also worked and have experience inside the Tourism Industry, Mining Industry, as well has served in the South African Police Force . He is a published author with his book Do You Really Want To Be An Entrepreneur, and co-author two other books, Finding Your Moment Of Clarity, and The Game Changers. In 2016 he was awarded with The Top 20 Small Business Award from the NSBC.

Karel is a licensed and accredited Business Coach with SA Business Coaches, COMENSA, ICR (International Coaching Register), and a registered NLP Practioner with the American Union of NLP (AUNLP). He completed his Master Sales Certification from The Cardone Sales University, USA in 2019 and holds a Batchelor's degree in Counseling.

Example of Client Coaching Canvas File – Coach In The Corner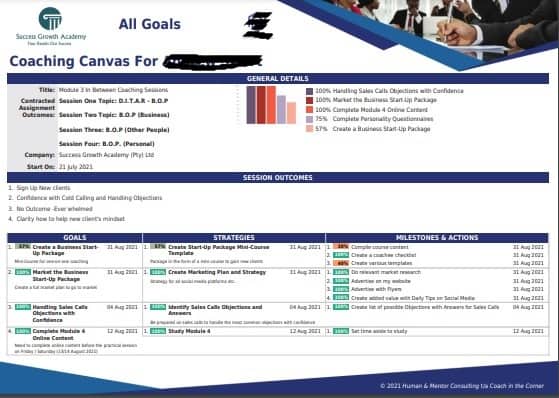 WHY SHOULD I HIRE A BUSINESS COACH?
Each person, business, and situation are unique. Your coach is there to help you understand and figure out what is keeping you stuck, causing you to worry, or preventing you from enjoying your business and how you can move forward, and to address any challenge you're having. Then, together, you will determine what the best course of action will be for you.

This is a professional agreement between coach and client. The Harvard Business Review confirms that business owners and managers decide to work with a business coach for a wide range of reasons – 48% to facilitate a business transition, 26% to act as a sounding board and 12% to address problems derailing the company. Maybe your business is just starting out and needs help moving in the right direction. Or maybe your brand is established but has hit a plateau. Perhaps you're losing staff – or customers – and you can't figure out why. Or maybe your market is evolving, and you need help keeping ahead of the changes. A skilled business coach is a mentor who comes alongside you to help you address any challenge you're having.

WHY IS KAREL VERMEULEN A BUSINESS COACH?
When I started my first business Male Wellbeing in 2008 and then KDL Skincare in 2010 I made a lot of mistakes and wrongful choices that cost me dearly. I had no formal business education, and no one to ask advice from. I picked up most of my business knowledge through trial and error, and self-education which took me a long time to learn. Only in 2017 I learned the true value of having a business coach. By nature, I love helping people and love to see another human being succeed and what better way to give back and help other entrepreneurs and business owners to guide and help them not to make the same mistakes than I made and also to reach their level of success faster than me.
HOW MANY COACHING SESSIONS?
Business coaching is not a one-stop solution. It is an integrate and ongoing process. Therefore, it is advisable that you choose what will work best for your time schedule and budget. You can choose between 6, 12 or 18, or 24 sessions.
WILL THE COACH BE AVAILABLE 24/7?
This is a business practice like any other business with set operating hours. There is a break-hour-glass clause in the business coaching agreement that states that the client is allowed to contact the coach outside normal business hours in a case of an extreme emergency only. Please do not abuse this privilege.
WILL THERE BE A CONFIDENTIALY AGREEMENT?
Yes, I do have, and this will be sent to you as part of our coaching agreement.

Karel will listen actively to his client's goals, vision, beliefs. He will then 'window shop" using a special framework and methodology called D.I.T.A.R-B.O.P to develop powerful questions, and communication techniques to evoke awareness within is client to move them forward toward their desired outcomes.
HOW MUCH DO BUSINESS COACHING SERVICES COST?
A great and important question. Like any other business, Business Coaching is a business to deliver quality services to help the client get the results they want. A better question to ask is "what will it cost me, my family, and my business if I do not invest in an accredited and qualified business coach?".

Investing in business coaching services or any other form of business assistance, you want to think about your return on investment and whether or not the returns justify the expense. You're coached on all facets of running a business, from your interpersonal skills to your technical know-how. When you're able to trust the results, the cost of business coaching services becomes a means to an end.

Schedule your free 30-minute session to learn more about the cost to invest in Karel's Business Results Coaching services.

WHAT MAKES KAREL DIFFERENT FROM OTHER BUSINESS COACHES?
The coaching industry is an unregulated industry resulting in so many people becoming business coaches without the proper regulated business coaching qualifications. Karel went through a rigorous business coaches trainer program resulting in more than 364 coaching hours. He is a registered business coach with SA Business Coaches, COMENSA (Coaches and Mentors of South Africa), ICR (International Coaches Register) and a registered NLP Practitioner with The American NLP Foundation. He also has a Batchelor Degree in Counseling. I am bound by the ICF 8 Core Competencies, COMENSA 9 Behavioural Standards, SA Business Coaches 9 Business Coaching Competencies. He uses a proven success diagnostic tool called D.I.T.A.R-B.O.P to understand and differentiate the 16 critical areas of the client' business where he can help with business results coaching, consulting, therapy and or counseling.
IS PHYSICAL PRESCENCE REQUIRED?
Physical presence in a coaching session is preferred, but not always possible. The beauty with today's technology is that coaching sessions can be effectively conducted online via Zoom, Skype, Teams etc.
All sessions paid for in advance will incurred a 5% discount.
HOW LONG IS A BUSINESS COACHING SESSION?
The initial meet-and-greet session will be approximately 30-minutes. Thereafter, if agreed to work together it will be followed up by a 2-hour Scoping session where the problem(s), and challenging areas in the business will be identified with possible well-formed outcomes. All other coaching sessions thereafter will be approximately an hour per session.
WILL MY FILE BE AVAILABLE FOR ME?
As part of our professional service to the client we use an online platform called Coach In The Corner (CITC) where all the client's coaching notes, objectives, goals, milestones, and progress are available 24/7. The client will receive log in details with a password, so they can log in from any device at any time to track their progress, and what was discussed in each coaching session.